Wine in Oregon has been around for close to 50 years now but has predominantly been dominated by two varietals: Pinot Noir and Pinot Gris. Together, they account for about 80% of Oregon's total plantings in the state. However, in the last 12 years, Chardonnay has become much more of a focus in the valley, as more talented vineyard managers and winemakers have flocked to the state, and as more consistent growing seasons have opened doors that were previously jarred shut.
In the early years of planting Chardonnay in Oregon, a lot of clones that were successful in California were tried up here and produced moderate if not underwhelming results. The popular dijon clones benefited from a long, warm growing season in California which gave the wines more ripeness, acidity, and depth. A lot of growers scrapped their Chardonnay plans in favor of Pinot Gris vines, figuring it was easier and fit better with Oregon's climate.
However, in the last decade plus, Oregon has seen a pretty seismic shift in summer weather, with higher average temperatures and less than an inch of rain in the months of July and August. (See Chart A below) This weather shift has made Chardonnay much more feasible, and that coupled with the copious talent that has flocked to the state from California, France and elsewhere has made it a much more attractive option. Winegrowers have even returned to the Chardonnay clones that were once all but abandoned in this state, as the enhanced growing season has given winemakers the ripeness and acidity that was once lacking.
---
Chart A: Growing Degree Days accumulation fomr 1998 to 2018 in the Willamette Valley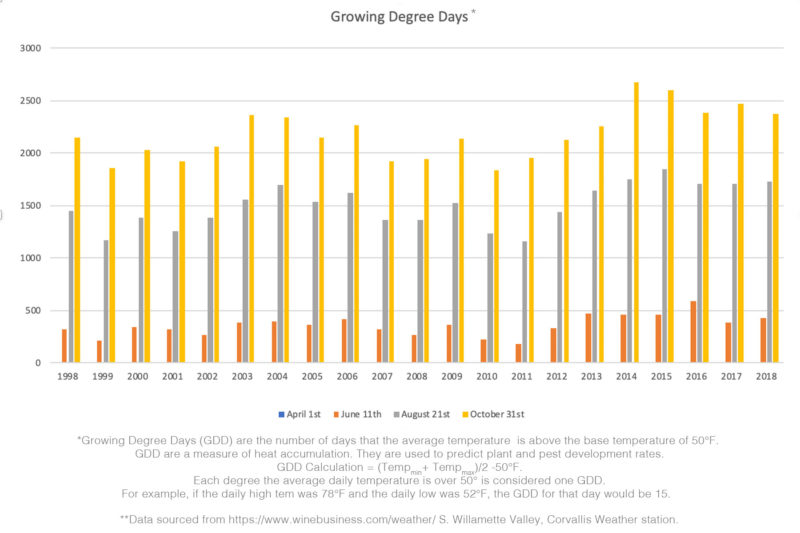 ---
Recently, Oregon wine has been gobbled up across the country by single consumers and restaurants alike. In terms of quality, the wines are no longer considered second fiddle compared to their neighbors to the south. Our winemakers at Westmount say they think Chardonnay's rise in the state is parallel to the rise of Oregon wine as a whole. In our first two vintages, the focus was on Pinot Noir and Pinot Gris. In 2017, Westmount Chardonnay came out of its cocoon, and it did so in a big way.
Of the hundreds of wineries in the valley, just 50 of them were on display on Saturday, February 23rd for the Oregon Chardonnay Celebration. Westmount Chardonnay was one of those wines selected for the showcase, which featured all the big names that have helped put Oregon Chardonnay on the map (Bethel Heights, Bergstrom, Domaine Serene). Standing shoulder to shoulder with those wines was our baby, decorated in a screw cap but certainly not messing around.
The 2017 Westmount Chardonnay is the result of a ton of tinkering and blending to build the mouthfeel into the exact final product that the winemakers are seeking. One thing that our winemaking team found that was essential to this wine's quality was the use of whole-cluster slow press as opposed to a machine, bulk removing the stems and breaking the skins. This gives the wine a great weight to it, taking it from light-body to medium body while retaining the acidity that is crucial to the Chardonnay grape.
The wine is a combination of a number of blocks and clones that have been blended together. Some blocks offer more acidity, while some are juicier and round. That's where the blending comes in. In addition, introducing oak to the Chardonnay, barrels that are right in between New and Neutral (1-2 years) give the wine a beautiful balance that gives the wine a number of complex components that really make it sing.
The 2017 Westmount Chardonnay gives off inviting aromas of pineapple, beach, exotic Tahitian vanilla, orange blossom and a subtle note of toasted almonds. It's got a tremendous balance between alcohol, acidity, and richness that give the wine weight, though this one stops short of being categorized as heavy. Upon the first sip, Queen Victoria pineapple, vanilla, citrus, and cold brew coffee come to mind. It's a wine that is currently singing and was made to be enjoyed over the next 2-3 years.
If you're sitting down with a bottle, it's best paired with a cheese plate, with some triple cream brie for the soft cheese lovers or an aged gouda for those who prefer their cheese hard. If you're looking to pair the wine with food, a white fish in a cream sauce may be the perfect dish to compliment this incredible value.
At just $20/bottle, you're not going to find many bottles of Chardonnay in the U.S. that will hold a candle to this one. If you're lucky enough to do it, chances are the wine came from the Sta. Rita Hills or the Sonoma Coast.
Check out the Golden Goose here!