Coming off arguably their grittiest effort of the season in a 3-2 road win against the Colorado Rapids last weekend, the Timbers return home to Portland to face 10 men and 1 lion. The Timbers play host to the Los Angeles Galaxy early Saturday afternoon, in a match that will feature the modest international superstar, Zlatan Ibrahimovic. Timbers and Thorns stat man took a hilarious, playful jab at Zlatan earlier this week when he tweeted that Saturday's match had a world-class Swedish forward who has been scoring highlight reel goals in his short time in the MLS.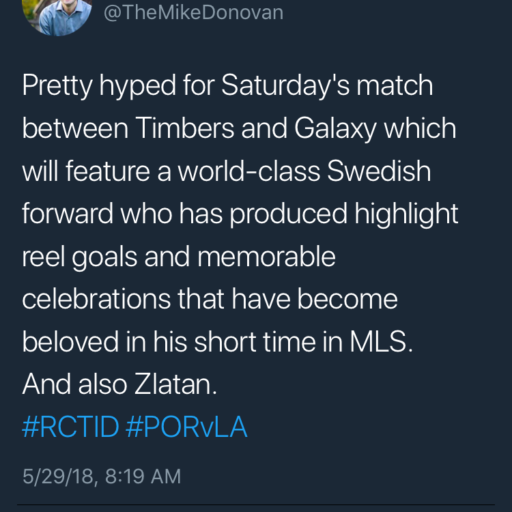 Donovan was referring to Zlatan's fellow countryman, Samuel Armenteros, who has been nothing short of a stud for the Timbers in the past few weeks, earning back to back "MLS Goal of the Week" honors.
This matchup has the potential for a lot of fire power, but with the way the Timbers are clicking on all cylinders, anything less than a home win against a sliding LA team would be a bit of a letdown. Still, it can't be overstated how well Portland have played of late. It's been an absolute treat watching these guys gel on the pitch.
Components
1-5 Scale; 1=Not Great; 5=Good or an Advantage for Our Team
Pinot Noir: 17-20, Pinot Gris 13-16, Rosé 9-12
#                            Explanation
Match Weather:             5             A gorgeous sunny, 80-degree day is slated for kickoff on                                                                  Saturday. That's just glorious.
Start Time:                      4             2pm Sat. is a good time for a match. Post-game, pre-dinner                                                            drinks after a win is the plan
Rivalry Game?                 4             Though L.A. isn't one of the Timbers main rivals, this one                                                                will probably get chippy.
Hot or Not?                     5            The Timbers are liquid, hot magma. Never has a team been                                                              so hot before, we think.
Final Score:                     18
Verdict: It's time for old faithful– it's a Pinot Noir Day! This one should be a doozy. The two teams are fairly evenly matched, though the Timbers will be the clear favorite going into the match. The weather looks great, and we're excited to be there in our June scarves cheering our boys on. We'll hope to see our guy, Bill Tuiloma tomorrow with Liam Ridgewell still recovering from an injury. It's been a while for Tuiloma, and something in our bones says, put the young lad on the pitch and we'll be handsomely rewarded. Against an L.A. team that I'll stop just short of calling desperate, this one should come down to the wire. We'll say for the second straight week, the Timbers will be on the right end of a 3-2 final.
#RCTID #Onward #TimbersArmy #Ourhouse