Rooted in the PacNW – Video Series – Portland Gear
Have you ever been a part of a special team?  A team that evoked feelings of excitement, respect, accountability and comradery that is hard to describe but impossible to miss. This could have been your state champion soccer team, an award-winning choir, maybe even a group of people that you work with.
As humans, and even as cavemen before that, we have always moved toward those feelings. We're better off in tribes, working together towards a common goal with people who've got our backs. There is one tribe in the heart of the Pacific Northwest that embodies all the traits of that special team. A tribe that resides amongst rolling hills and evergreen trees and is full of so much pride that it has grown a brand to help it celebrate.
Portland, Oregon, Rose City, Bridgetown, Rip City, Stumptown, home. Whatever you call it, whether you grew up in Portland, live in or just visited, you know that feeling that you get when you think about it. This big-little city sits at the junction of the Columbia and Willamette Rivers and is full of excitement. It has an eclectic collection of people that look at the world with a unique perspective. People who are inspired, creative, passionate, believe in their community and will wait for brunch any day of the week.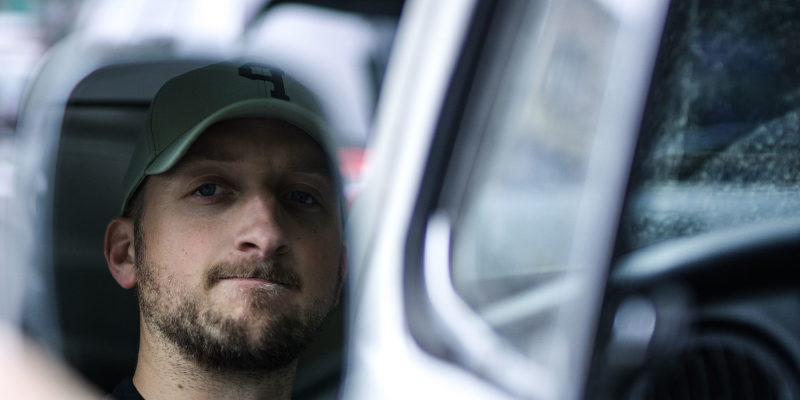 Marcus Harvey, Portland Gear owner is his mobile shop, a 1974 VW bus.
A growing presence on the heads and shirt pockets of Portlanders is a simple, yet iconic, slab-serif 'P' with an Oregon shaped counter. If you live in Oregon or have visited in the last 5 years, you know this 'P'.  Specifically, this 'P' is Portland Gear, but for those who know it, it is so much more than that. It is a brand that represents more than a place it is the individual and collective experiences of people living their best lives in the PacNW.
Marcus Harvey, the millennial owner of five-year-old Portland Gear, was raised in Portland and is a self-described fan. He grew up on I-5 going to as many Oregon Duck games as he could. He was that kid relentlessly organizing his basketball cards and meticulously keeping his Jordan IV's as clean as possible.  After graduating from the University of Oregon he was working back in Portland as a designer and screen printer when the idea was born for a brand that could highlight his love and admiration for this place he calls home
What we know now as Portland Gear simply started with the @portland Instagram as a place of pride and connection within the community. It wasn't planned to grow into a brand with a huge online presence, a retail store on 19th and Burnside, partnerships with all Portland's sports teams and start-up culture in his growing staff of now six people. "Everything that we have done has been natural and authentic to not only who we are as a brand, but who Portland is."

The first and still rolling Portland Gear shop.
After some success with online sales and rapid growth in the @portland and @portlandgear online presence, Marcus was looking for that next step. Naturally, a la Nike, he started selling gear out of his wrapped 70's Volkswagen Van. "We didn't have a retail space, and frankly then, I wasn't ready for a space. I wanted to take the gear to the people and get it in the hands of Portland's Maker culture."
Portland's Night Market, first Thursdays in the Pearl, Mississippi Street Fair, Last Thursdays on Alberta, all became his retail space with the van. Marcus' goal was simple: be anywhere and everywhere.  Be with the people, enjoy the sights, sounds, and tastes of this great city and let the demand come naturally. "The key to our early success was that we were in the community and were just authentic and true to who we are. I'm a Portland kid, wanting to show the love, and I think that resonates with people. I'm not trying to find the next angle to sell gear, we just do what we like, work with like-minded people, and listen to our community."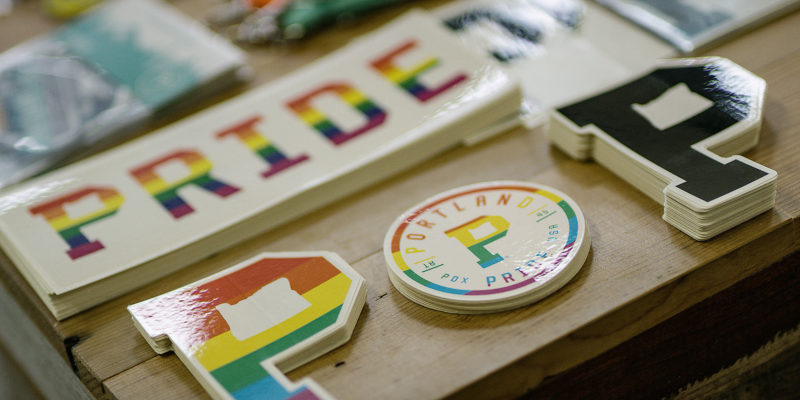 Marcus's journey has evolved into places that he never thought it would go. His message for folks is as simple as the 'P' that has made all this come to fruition. "Scratch your own itch, don't come in with all these expectations, just be true to who you are." These are all statements that you hear from the latest social entrepreneur motivators like Gary V or Tim Ferriss, and Marcus followed their advice without tactically planning for it. He is a product of his environment, the place that raised him. Through listening, he let the heart of the Pacific Northwest tell him what they wanted, and he brought it to them in spades. Now, Portland Gear and Marcus are as firmly rooted in Portland's composition as the evergreen trees that cover the Northern Willamette Valley skyline.